Massager, infrared therapy and built-in speakers only you can hear help you relax and sleep better.

Hypnos combines the best relaxing technology with an all-natural latex pillow designed to make you sleep like a baby. The built-in infrared warmth and pulsating massager relax your sore neck after work, before falling asleep with soft music playing through the built-in speaker. Best of all, when you fall asleep, the pillow will automatically switch off all the electronics, turning Hypnos into the pillow of your dreams, literally.

Many of us wake up with a sore neck and back, and by using our computer all day we'll make sure we're coming home feeling even worse.
Hypnos helps relieve this by providing three solutions in one great pillow. The massager and infrared therapy help you relax tense muscles in your neck when you come home from work. 
When it's time to sleep, the contoured, soft but supporting natural latex will help you fall asleep fast and wake up refreshed without neck or back pain.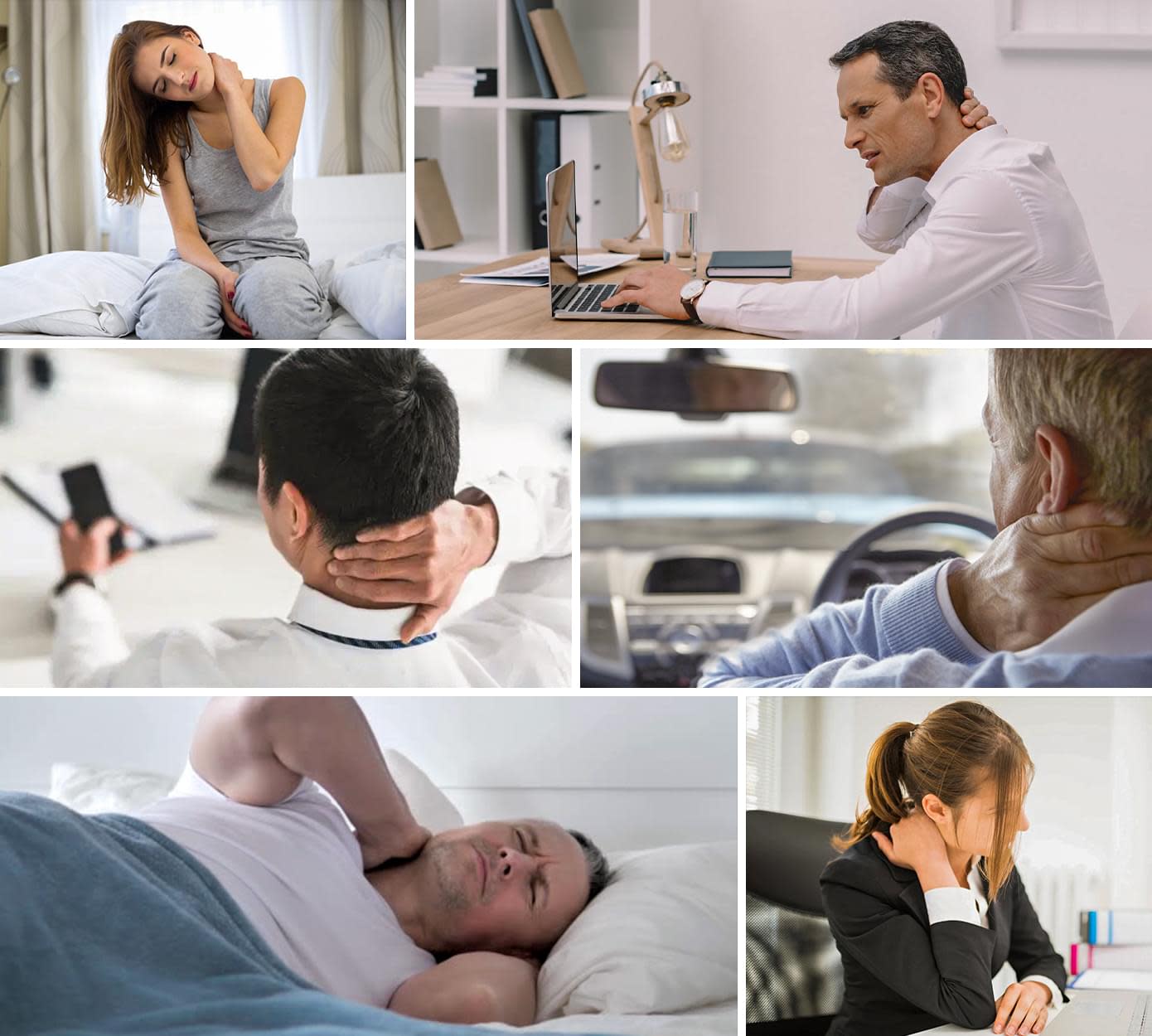 We've integrated an infrared therapy and massaging unit into the pillow, delivering soothing warmth and relaxing vibrations after a long day at work. They can be used together or individually, and different modes give you a customized experience for optimal relaxation.
The pillow is designed to release tension in your neck, relaxing and recharging you, whether you're resting, or recharging for a night-shift.
Don't worry about falling asleep with the infrared or massager still turned on, Hypnos has a built-in sleep sensor that detects when you fall asleep and turns off all the electronics.

Take a deep breath and relax with the built-in pulsating massager. Just close your eyes and imagine the gentle touch of a masseur rubbing your neck. If rough is what you're into, that's fine, we won't judge, our pillow comes with three different modes.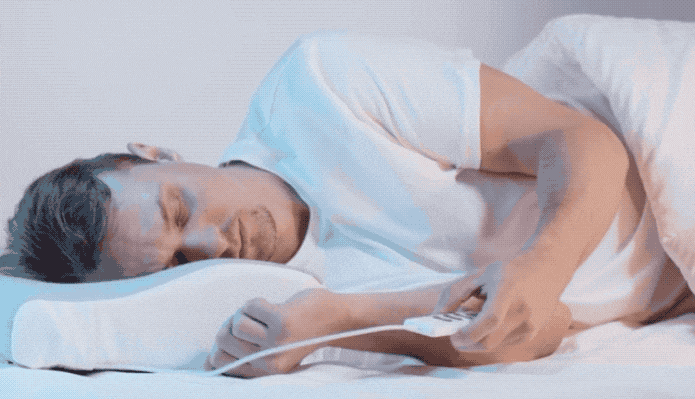 Hypnos has built-in speakers, that's fancy talk for a new type of speaker that only you can hear, not the people next to you. The pillow comes with its own set of snooze-inducing tunes, but you can also connect your phone to play your favorite white noise and music.
Listen to our beautiful built-in music, or wirelessly connect your phone. You can even stream the audio of your favorite shows through the pillow if you're watching Netflix in bed and don't want to disturb the person next to you.

The Hypnos pillow is entirely made out of natural latex, responsibly derived from trees. Not only does it offer great support for your back and neck, it is naturally hypoallergenic. It's how mother nature wants you to sleep.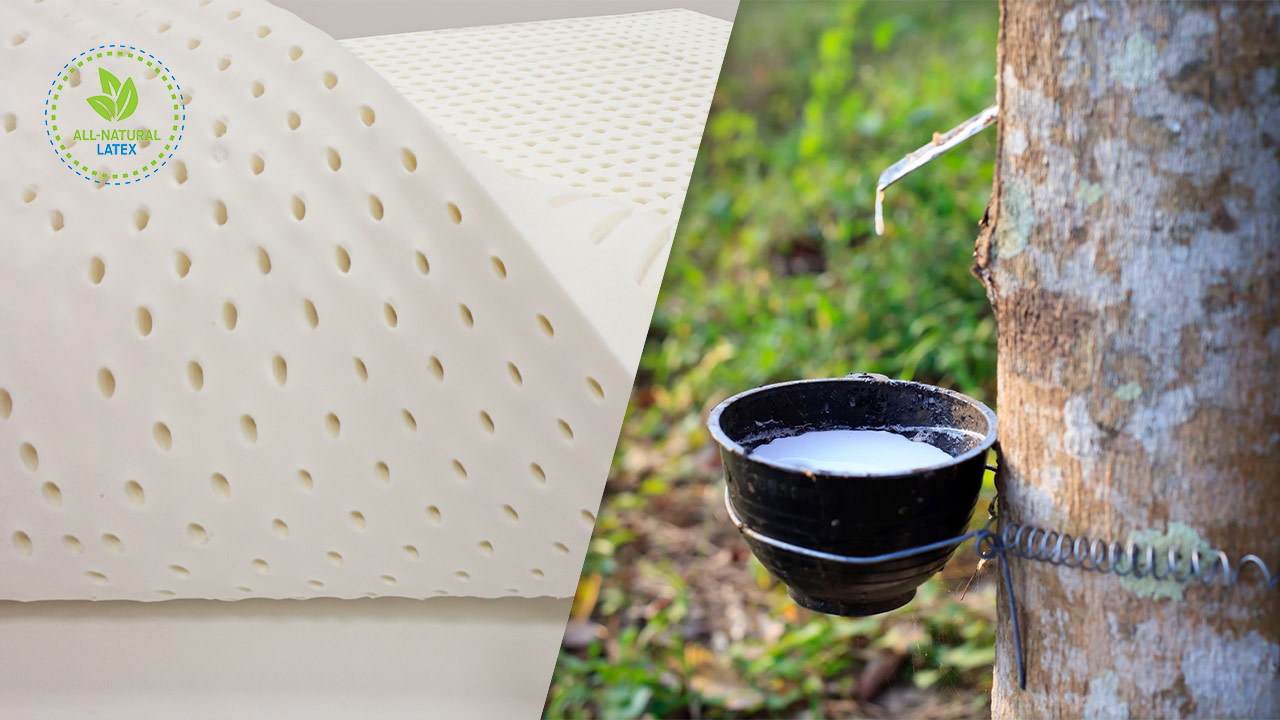 So what makes the Hypnos pillow so great at its job of relaxing you? Every feature we've added to the pillow has been researched extensively. From the right temperature of the infrared heat to the most relaxing frequency of the massager. Below you'll find a bit more about the science behind the Hypnos pillow.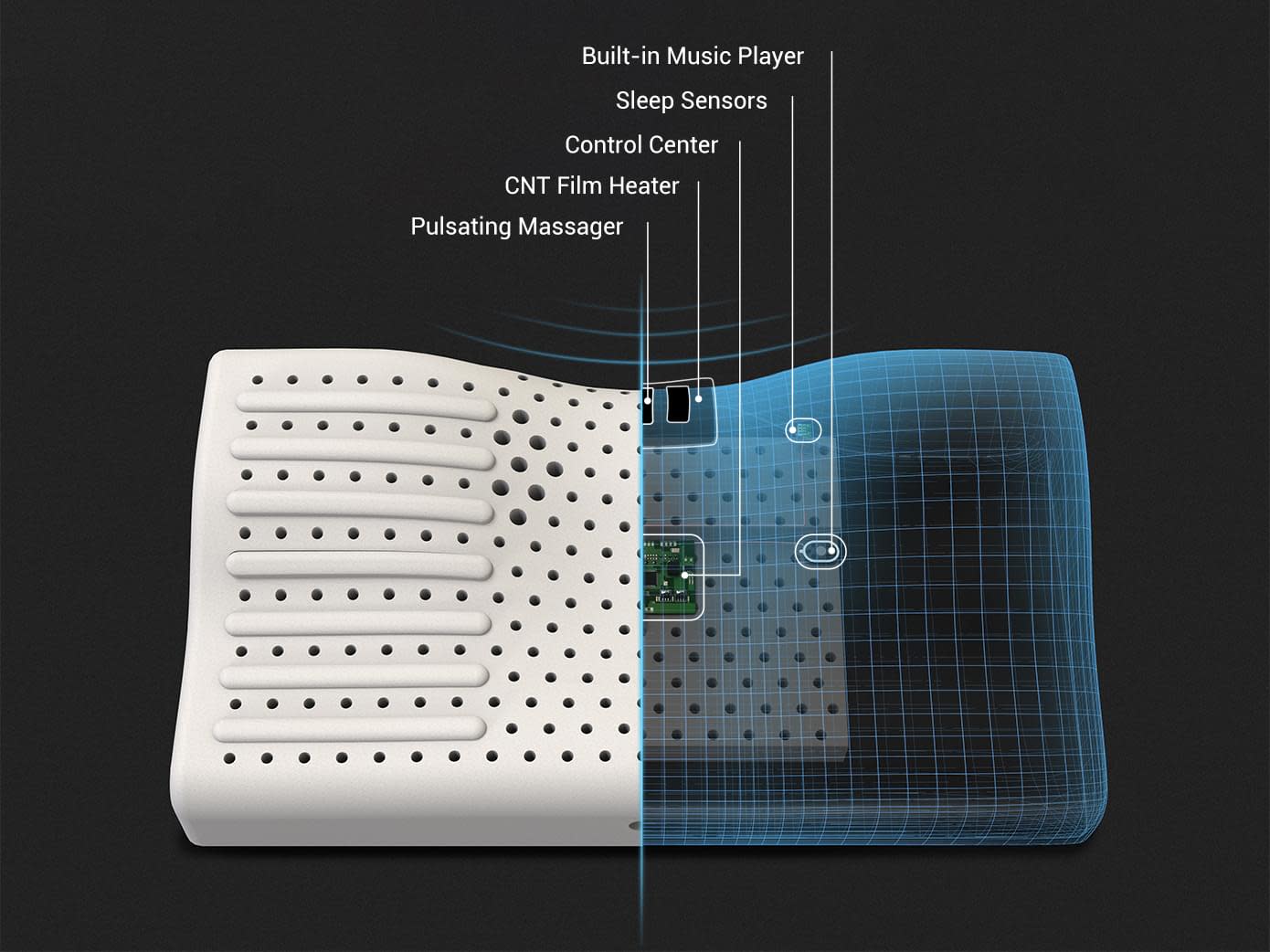 We've tried different pillow fabrics before ultimately settling on graphene. This luxury material which is very soft to the touch conducts heat extremely well, which helps with the infrared heating option. Different people, different preferences so we designed six different heating modes to choose from. It's luxury meeting science at its finest.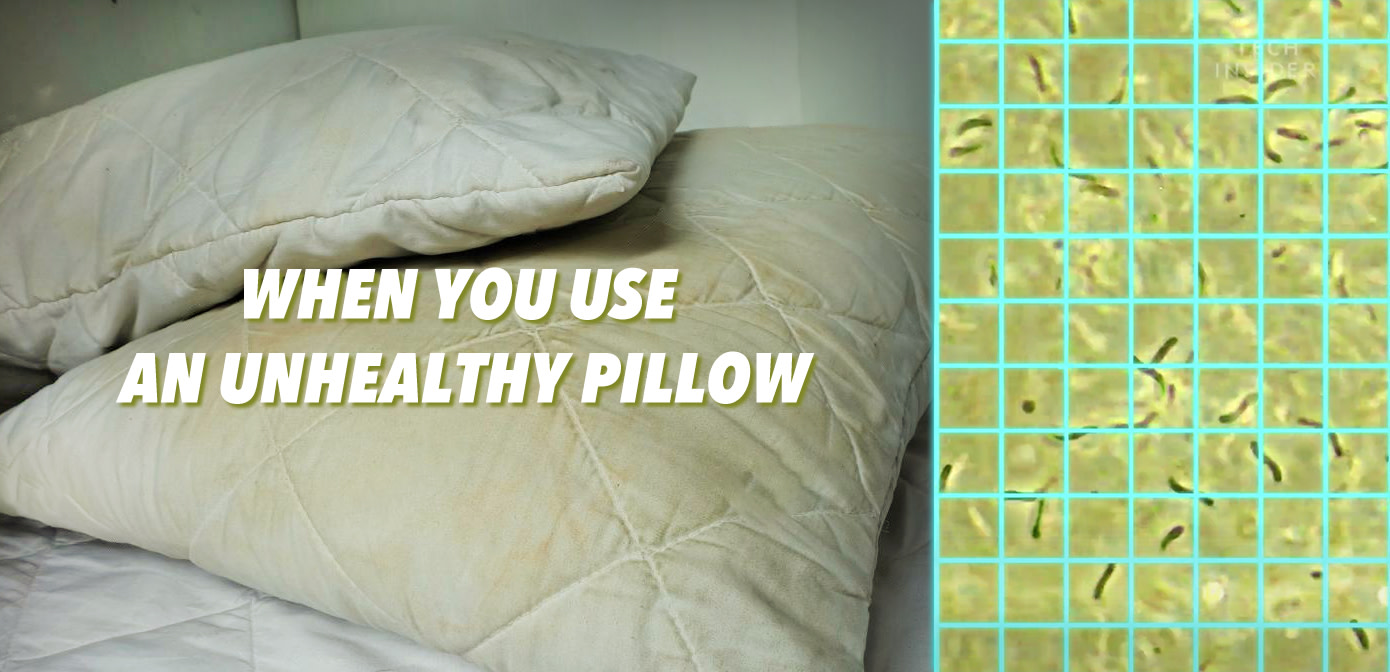 Whether you're a side- or back sleeper, Hypnos gives great support to your back and neck with its ergonomic design. Hypnos is not just some massage gadget, your chiropractor would be proud of you for sleeping on it because it offers great support throughout the night. The latex core has air holes to keep you cool, so you won't wake up in a sweat.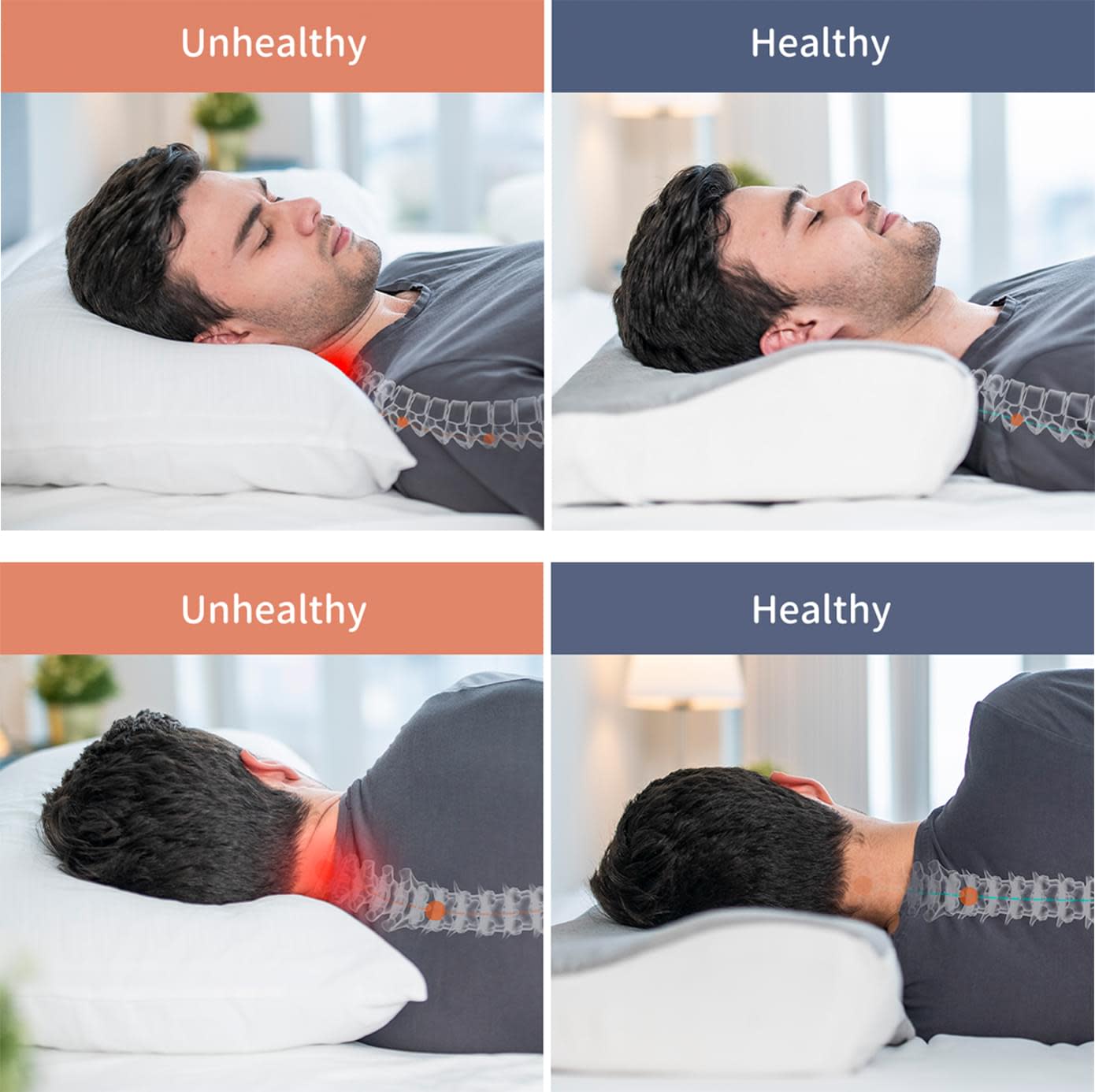 Let Hypnos do the thinking while you relax, our Smart Sleep Sensors detect when you enter deep sleep, and switch off the massager, infrared and music. It keeps track of your sleep throughout the night, and in the morning tells you how you've slept, it's one smart pillow!


The air holes are designed to make Hypnos even more breathable and dry, sleep better at a pleasant temperature.


Teamwork makes the dream work, literally. 
The incredible sleep scientists at our R&D center have had many sleepless nights to ensure you can, well, sleep! Our company Shuixing Textile is the biggest pillow and duvet company in China, or as we like to call it, the dream factory.
Our team is in charge of developing the technology that goes into Hypnos, as well as extensively testing the pillow for comfort, safety, and durability.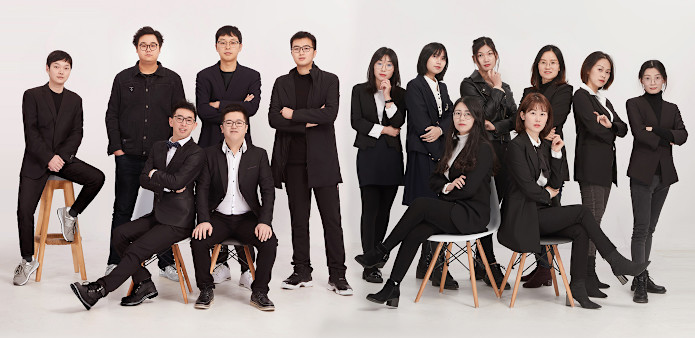 Selected by Xiaomi Youpin, trusted by millions of customers
Xiaomi Youpin is China's premier e-commerce platform, founded by Xiaomi, a global leader in smartphones and smart hardware. Xiaomi serves millions of customers around the world with their incredible hardware at unbeatable prices. In China, Xiaomi selects other companies that meet its high standards in quality, design and affordability and sells them on their Xiaomi Youpin platform. Shuixing Textile is one of those companies, and that's why Xiaomi Youpin is proud to power this campaign on Indiegogo. 
Our team of product experts in Beijing is convinced you will love this pillow, and the entire Xiaomi Youpin team is here to support the campaign with fulfillment and anything else we can help you with.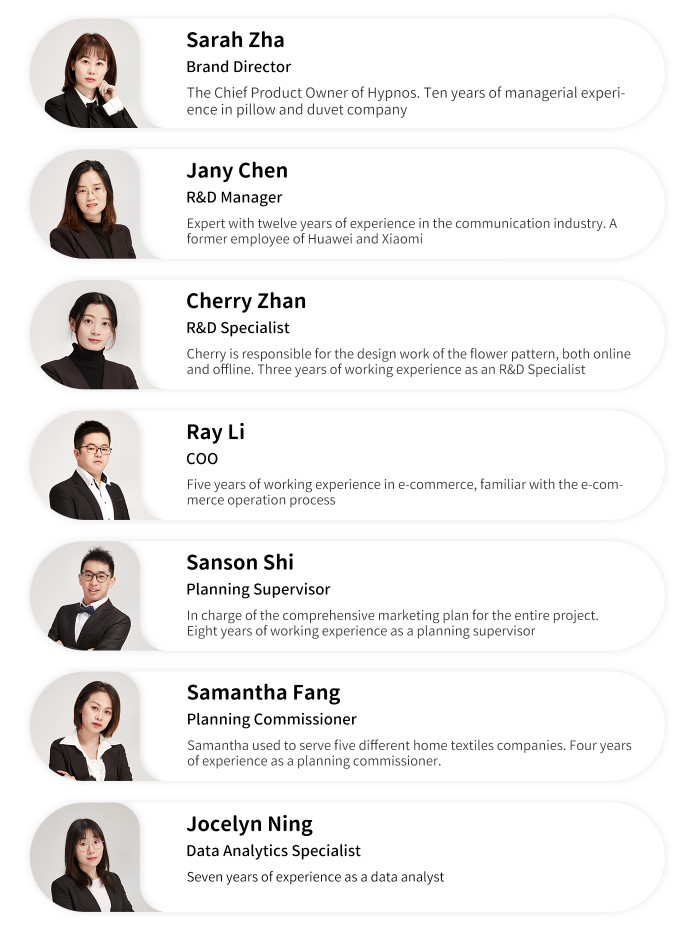 Why crowdfunding
You might think, 'why do some of China's best and brightest companies need my support on Indiegogo?' Well, to be honest, we're ambitious, and we want to share the best of China with the whole world, but launching overseas isn't always easy. We know how to manufacture and ship a product like no other, but there's more to building a brand, and developing a community of happy customers like you.
We really appreciate your support, and thrive on your feedback to make our products even better. Crowdfunding allows us to talk with you directly, rather than going through distributors and stores. And that's why we want to hear from you! What do you like? What can we do better? Please tell us, we can't wait to hear what you think.


We won't rest until you do, so please, help us help you by supporting our campaign. Together we can make the world a more well-rested and relaxed place, one Hypnos at a time.
Thank you, and please reach out to us with any questions you might have, we're very well rested and here to help.
If you need any additional information, please see our specifications and FAQ below.
Sleep tight!