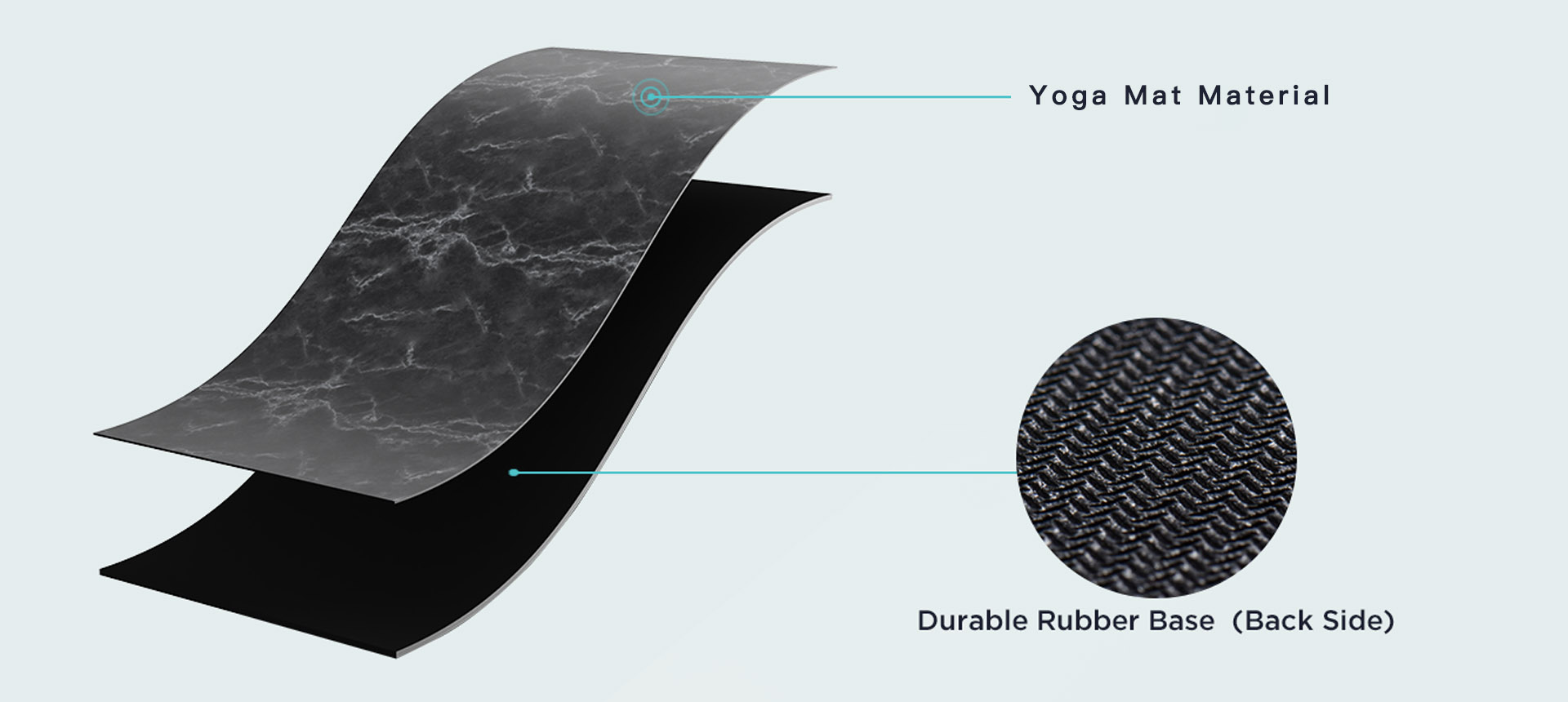 Compared to most athletic activities and workouts, yoga requires minimal gear to get started. Whether you're ready to join the millions of fellow yogis across the globe, or just looking for a cute fitness mat for some stretching and extra support, you should consider the following questions to decide what's appropriate first: are you allergic to any materials? Are you concerned about the environmental consequences? How easy is it to clean the material?
Most yoga mats, especially the inexpensive ones, are made of PVC, which is not the most eco-friendly option. PVC is not biodegradable and thermoplastic elastomer, which means the mat might last a bit longer, but it's not environmentally friendly. You might consider jute, recycled or natural rubber, or even organic cotton when looking into the materials of your new mat.
Here are three essential factors about yoga mat:
Go for Grip
There's nothing worse than sliding around on your mat during class. When shopping for a mat, make sure to opt for a non-slip mat that grips. Still not grippy enough? Some yoga chalk or yoga towels can do the job.
Find Support
The most important feature of a yoga mat is its thickness, which provides cushioning and support. Mats with extra cushion are your most comfortable bet. Make sure your mat has enough padding. Most mats are between 3-4mm thick, but the best yoga mats are usually around 6mm, a more durable and supportive option. Flimsy mats may be cheaper, but you can risk injury, especially if you have sensitive knees, ankles, or wrists.
Be Mindful on Material
The material of a mat will determine the texture, stickiness, sponginess, and eco-friendliness. Most yoga mats are made of either vinyl or rubber. Vinyl mats last a long time and can endure many yoga classes. Rubber mats typically have jute and cotton in them, making them more eco-friendly but less spongy.
There are several popular materials used in most yoga mats:
PVC: Polyvinyl Chloride is one of the most commonly used materials to make yoga mats. The upside is they tend to be very inexpensive. However, PVC has a bad reputation in the yoga community as some studies indicate it may be a carcinogen. It is also hard to recycle. PVC yoga mats contain phthalates and dangerous toxins, and they aren't recyclable, so this isn't the most eco-friendly option.
Foam: Like rubber, foam yoga mats are an environmentally friendly alternative to PVC mats. Foam mats can also contain latex, however, so they don't work for practitioners with allergies. They also don't last as long and are less durable.
Jute: Jute yoga mats are similar to cotton mats in that they are made from a natural and biodegradable material. They also provide adequate traction. However, jute mats don't absorb moisture and cotton and aren't as supportive as other options.
Cotton: Cotton yoga mats are a very eco-friendly option because they're made from renewable, natural material and are biodegradable. However, they tend to be thinner than other mats, so they don't offer as much support, and they tend to break down with wear and tear.
Cork: Cork is also a very eco-friendly option. They offer pretty good support but tend to break down due to wear and tear pretty easily.
TPE: TPE is our favorite option for yoga mats because it requires no compounding, no need for reinforcing agents, and no need for stabilizers or cure systems. TPE mats take less energy to produce than other mats (like the most common PVC mats) because of the material used. They are latex-free, PVC free, and chloride-free and antibacterial, all while staying cushiony, durable, and flexible.
Rubber: Natural rubber mats are eco-friendly choices, 100% formaldehyde-free, non-toxic and PVC-free. It's safe for human contact and the environment. Especially the Sharklet Yoga Mat uses sharklet technology, which is the world's first technology to inhibit bacterial growth, cleanest and healthier for use.
Conclusion
Make sure that toxic glues were not used in the production process. You don't want any nasty metals, such as cadmium or lead in your mat. Yoga mat brands disclose these details, so check everything before you buy.
Note that you'll want to avoid natural-rubber mats if you're allergic to latex. Go for a different natural material, such as jute or cotton.